What's On
Heritage & Food Walking Tour
Shambles Yard
21/09/2019
21/09/2019
available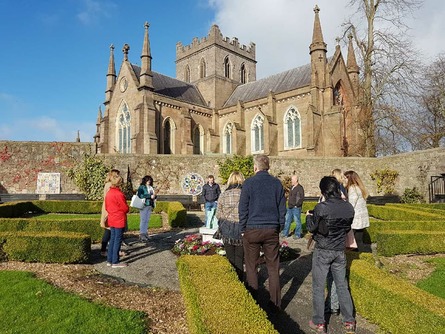 2.00pm – 5.00pm | £30.00 | Departs: Shambles Yard, Armagh

The best way to discover The Food Heartland of Armagh City (featured in the top 5 Foodie Destinations of Ireland) and all its many culinary wonders is by joining this Festival Heritage & Food Walking Tour. During the course of this informative historical tour, you will visit restaurants to sample our very best local food and drink and will hear the stories of our passionate producers.
During this Food Tour you can:
■ Enjoy local produce prepared by award winning Food Heartland chefs;
■ Taste an assortment of fresh, flavoursome delicacies including local breads, cheeses, charcuterie and smoked meats and fish;
■ Learn about food pairing ideas from the experts;
■ Sample a selection of beverages from the Orchard County and beyond and;
■ Learn of the stories and traditions of Ireland's oldest city during the 90 min guided walk with light-hearted narrative along the way.
Book Now