What's On
Bramley Apple Banquet
Crannagael House
21/09/2019
21/09/2019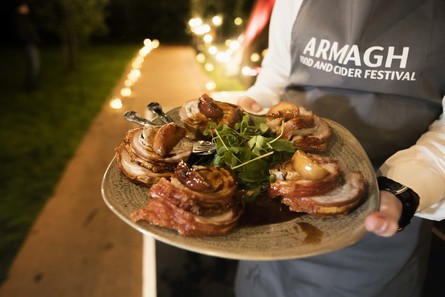 7.30pm -11.30pm | £60.00 | Crannagael House, Ardress

This 5-course, culinary adventure is a treat for guests who simply love great food, delicious ciders and juices, musical entertainment and great company! Hosted at the home of Jane and John Nicholson, whose ancestors planted the first Bramley seedling in County Armagh, you are invited to share the very best of local food, specially created by our award winning Food Heartland chefs. Set amongst the stunning County Armagh orchards and dining in luxury tepees, this is a foodie's dream come true!
Evening includes musical entertainment, ciders and wines.
Free shuttle bus transport from Portadown and Armagh available on request. Stops at Richhill, Loughgall and Moy. To book transport please contact Denise Phillips denise.phillips@marketplacearmagh.com
T: +44 (0) 2837529600 ext 3435 Transport subject to availability last date for booking Monday 17th September.
Book Now