What's On
WKPF – Martin Hayes and David Power plus special guests
Marketplace Theatre
028 3752 1821
16/11/2019
16/11/2019
Folk / Traditional Music
available
William Kennedy Piping Festival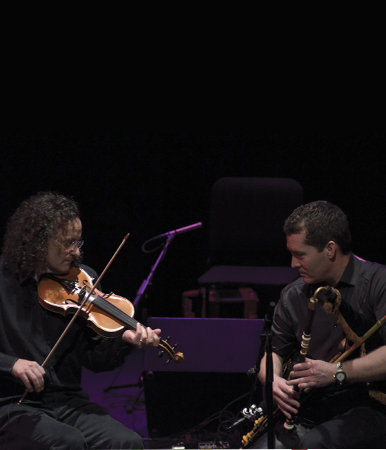 WKPF – Double Bill with Martin Hayes and David Power plus Mohsen Sharifian and special guests
Armagh Pipers Club and the William Kennedy Piping Festival are delighted to present the legendary Martin Hayes in duet with piper David Power. Martin Hayes' soulful interpretations of traditional Irish music are recognized the world over for their exquisite musicality and irresistible rhythm. He has toured and recorded with guitarist Dennis Cahill for over twenty years, and has collaborated with extraordinary musicians in the classical, folk and contemporary music worlds such as Bill Frisell, Ricky Skaggs, Jordi Savall, Brooklyn Rider and the Irish Chamber Orchestra, RTE Concert Orchestra as well as many of the greatest traditional Irish musicians over the past thirty years.
Martin has contributed music, both original and traditional arrangements to modern dance, theatre, film and television. He has performed on stage with Sting and Paul Simon and recently recorded with Yo Yo Ma's Silk Road Project. He is a founding member of the trailblazing group The Gloaming with whom he has recorded 3 groundbreaking albums and performed everywhere from Carnegie Hall to the Sydney Opera House as well as a record breaking run of 7 nights in the National Concert Hall Dublin.
He will be joined by master piper David Power from county Waterford.
Mohsen Sharifian was born in 1976 in Boushehr, a province in the south of Iran. Music was passed down in his family from generation to generation, and it was on the local traditional instruments of the area, Ney-Anban and Ney-Jufti, that he began playing music seriously in 1992. A year later he established the band, 'Lian', with whom he would go on to perform all over Iran and later around the world.
He has published numerous papers and books on the music of Southern Iran, and as a soloist and with various ensembles has recorded many albums of traditional and more experimental music. He has collaborated with musicians from many different backgrounds and traditions including a highly successful project with Scottish musicians that was showcased at Celtic Connections in Glasgow in 2018.
For this project entitled "An Exploration of Piping in Ireland and Iran" he will be joined by Mohammad Jaberi on percussion, Sylvain Barou on uilleann pipes and flutes, Emer Mayock on uilleann pipes and flutes, and Niall Vallely on concertina
Also appearing: Gráinne Holland with Brian Finnegan & Tony Byrne
Please note that there is a £1 per ticket booking fee for tickets purchased online.
Book Now