Marketplace Theatre
028 3752 1821
28/02/2020
28/02/2020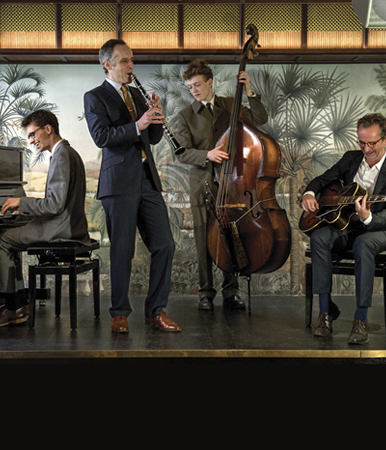 Fri 28 Feb | 8.00pm | £15.00 [Includes A Beer Or Glass Of Wine Or Cider]
Diving into the blues-drenched sounds of clarinetdriven 1920's New Orleans jazz, The Dime Notes present an irresistibly fresh take on a timeless style. Unearthing a repertoire of stomps, blues and forgotten gems of the era, from musicians such as Johnny Dodds and Jelly Roll Morton, The Dime Notes push forward the propulsive grooves and sultry melodies which made early jazz revolutionary, controversial, and wildly popular.
The stellar line-up features Dave Kelbie on rhythm guitar [of Evan Christopher's Django a la Creole], one of London's most in demand jazz clarinet players David Horniblow, American pianist Andrew Oliver and London bass player Louis Thomas. A busy schedule sees the band touring extensively throughout Europe, Canada and further afield. Don't miss the opportunity to hear them on this their first tour of Northern Ireland.
This event takes place in our Studio Theatre with an unreserved, tiered seating layout.
Book Now