What's On
Make A March Hare Mad
Marketplace Theatre
028 3752 1821
28/03/2020
28/03/2020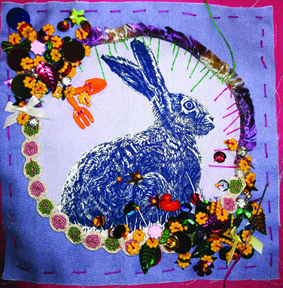 Stitch Based Workshop with Textile Artist Nigel Cheney
Sat 28 March | 10.00am – 4.00pm | £22.00 | This workshop takes place at Armagh County Museum
In the month of March, the curious antics of the European hare still enchant young and old alike. In this workshop with textile artist Nigel Cheney, you will learn a variety of hand stitch and embellishment techniques using thread, ribbons, lace and beads in order to customise an original textile print to make your own individual Mad March Hare. From a selection of digitally printed starting points, you can select your favourite colours and textures to produce either a small product such as a fabric brooch, pincushion or patch, or a craft piece to be framed for the wall. All materials and equipment provided.
Max No: 12 | Suitable for 16+ | Tutor: Nigel Cheney
Please note that there is a £1 per ticket booking fee for tickets purchased online.
Book Now