What's On
Introduction To Stone Carving
Marketplace Theatre
028 3752 1821
07/05/2020
07/05/2020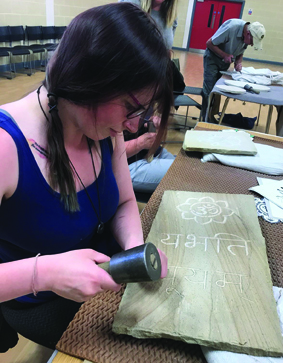 Thurs 7 May – Thurs 11 June [6 weeks] | 7.00pm – 9.00pm | £60.00 | Market Place Theatre
Stone carving preserves a word or an image forever, in the most beautiful and durable of natural materials. At this course, you will learn to carve V-cut letters or basic images in stone, incising into the material to create the shadows and lights that crisply define letters with no need for paint.
You will be introduced to the carving tools and will begin by carving numbers or initials on a 30cm x 30cm piece of sandstone to practice, then try a more ambitious piece – perhaps a family name or image on 60cm x 30cm sandstone to complete your finished piece. Aimed at beginners. All materials, tools and safety gear supplied.
Max No: 10 | Suitable for 16+ | Tutor: Jonny Kerr
Please note that there is a £1 per ticket booking fee for tickets purchased online.
Book Now