Marketplace Theatre
028 3752 1821
11/09/2021
11/09/2021
£15.00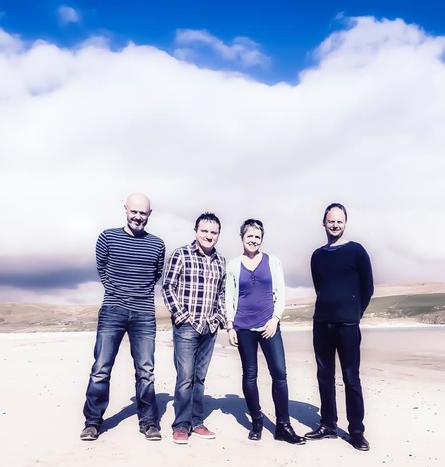 Moving on Music present FLOOK.
Taking inspiration from their roots in the Irish and English traditions, Flook have an enviable trademark sound, weaving and spinning traditionally rooted tunes over precise acoustic grooves, with a rare blend of fiery technical brilliance, delicate ensemble interaction and a bold, adventurous musical imagination.
There is certainly no shortage of virtuosity amongst the members of Flook, but the unique impact of this band stems from the wholly intuitive, almost symbiotic, exchange between the various flutes, frets and skins.
With a remarkably busy schedule this Moving on Music tour will mark their first performances in Northern Ireland since the release of their widely anticipated new album 'Ancora', released in early 2019 after a 14-year recording hiatus.
Twenty-four years after their first gig together, Flook continue to inspire and enchant, firmly cementing their reputation as major musical innovators.
RTÉ Radio 1 Folk Awards Best Folk group nominee, 2019
BBC Radio 2 Folk Awards Best Album nominee, 2019
"iconic, ground-breaking, progressive and all-round brilliant"
BBC Radio Ulster
"As vital as ever"
fRoots
"Head and shoulders above the rest… Magnificent"
The Irish Times
"A sensational live act…. in the front rank of the innovators"
The Rough Guide to Irish Music
"Sheer musical magic…Stunning technique, impossibly agile rhythm work and virtuoso flights of jazzy improvisation add up to one of the most enthralling sounds around"
The Scotsman
"In the pantheon of Irish/English folk groups they don't come much more revered than Flook."
Irish Post
Book Now