Marketplace Theatre
028 3752 1821
04/06/2020
04/06/2020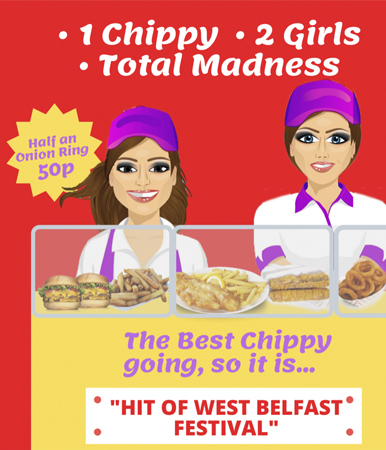 #OhMyCod The Brand-New Comedy by Aileen Bartlett. A story of 2 ordinary shop assistants in a 'Chippy' in the heart of Belfast and the dodgy events that conspire to create chaos in their lives. Hurrying in to work to serve up sausage suppers and battered Mars Bars, 19-year-old Padraigin announces she is late – not late for work but 'late'. Could she be up the duff to 'useless as a wooden poker,' Tucker? She prays to Padrio Pio she isn't.  Meanwhile, Dolly Parton fan, Kathy, who should know better, has entered a big song contest. Meanwhile, fish suppers, pastie baps and half onion rings are flying out the door. Yes, #OhMyCod could be a chippy anywhere. But this is Belfast and when a dodgy visitor accidently leaves something behind in the shop, the very existence of the #OhMyCod is thrown into chaos.
With sparkling dialogue and great characterisation, this hilarious comedy heralds the arrival of Aileen Bartlett as the latest new Ulster comedy writing talent.
Directed by Chris Robinson. Produced by Martin Lynch & Liam McMullan
Age – 14+ May contain strong language, scenes of an adult nature and sexual references.
Please note that there is a £1 per ticket booking fee for tickets purchased online.
Book Now