What's On
Bring On The Sunflower
Marketplace Theatre
028 3752 1821
31/07/2020
31/07/2020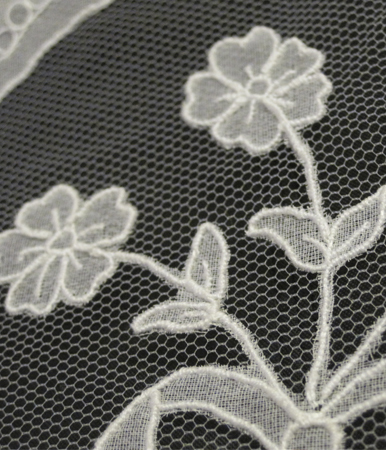 SUMMER CARRICKMACROSS LACE WORKSHOP – "BRING ON THE SUNFLOWER!"
Two-Day Summer School
Fri 31 July & Sat 1 August | 10.00am – 3.00pm | £55.00
Join lace maker Andrea Egan at this 2-day workshop to learn the techniques and skills of Carrickmacross lace whilst discovering the background of its rich and varied history
Andrea Egan fell in love with making Carrickmacross lace at the age of 21. She mostly sews for pleasure in her spare time and spent 435 hours sewing time making her own Cathedral length-wedding veil. She most recently appeared on Channel 4 "Kirstie's Handmade Christmas" and was the winner of the Stitch Craft Competition 2019. The judge referred to the craft as "witchcraft" as she seen the various intricate layers and stitches coming together in one piece of lace.
At this two-day workshop for both beginner and improving students, you can expect to learn the five essential techniques of Carrickmacross Lace: couching stitch, loops, guipure work, filling in stitches and pops. This will be taught through the production of a sunflower design creating a timeless piece of lace with memories of summer to take away with you and the skills to continue creating your own lace designs.
All materials will be supplied however, participants are encouraged to bring their own small table lamp due to the small and intricate stitching required.
Carrickmacross lace originated in Ireland in the 1820's. Inspired by Italian lace it uses a needlework applique technique where fine organdie is couched onto a net ground. Once finished the excess organdie is cut away using specialist scissors to uncover the pattern. The lace became a cottage industry in rural Ireland, generally made for the rich. It has many links with royalty as they often where the only people who could afford it.
Max No: 8 | Suitable 16+ | Tutor: Andrea McBride
PLease note that there is a £1 per ticket booking fee for tickets purchased online.
Book Now