What's On
Cooking with Fire at the Keeper's Lodge
On the Hoof at the Keepers Lodge, Gosford Forest Park
27/09/2020
27/09/2020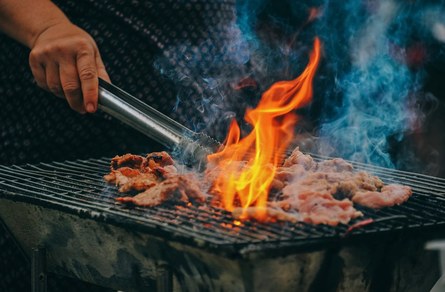 Have you ever fancied cooking with fire! Outside in the fresh air, with the simplest of tools and the freshest of foods? If you have then this one day course is the one for you and will guide and instruct you on how best to cook with fire! Some of the tools and tricks you will learn include how to make a simple smoker, create a fire pit, select the best wood and charcoal, and prepare the high quality produce – meat, fish, rubs and sauces. To try out your new skills, participants will be able to cook their own breakfast and a BBQ supper.
During the six sessions throughout the day there will be lots of tips and tricks to equip you with the skills needed to prepare your own feast at home. Complete the day by enjoying an evening meal washed down with local ciders or apple juice.
The day will include:
Welcome tea and coffee and introductions
Session one – Learn the principles of fire management including which woods and charcoal to use. Create a fire pit and use applewood as a fuel.
Session two – Cook your own breakfast over the fire.
Session three – prepare Argentinian style lamb to be slowly roasted over the fire pit
Session four – honouring the animal. We have a duty of care to ensure that a well reared animal, beef, pork or lamb is used in its entirety, from nose to tail. We look at ways to do this both at the event and at home.
Session five – preparing fish in a clay dressing to be cooked in the pit. We will make a simple smoker which can be replicated at home. We will make our own rubs and sauces.
Session six – Cooking the perfect steak over fire now we have everything ready to eat!
Should you have any dietary or access requirements, please mention during the booking process and these will be accommodated as far as possible. Please email foodandciderweekend@armaghbanbridgecraigavon.gov.uk for further assistance.
Armagh Food and Cider
Weekend General Information and Cancellation Policy
Armagh Food and Cider Weekend is a series of unique
experiences which celebrate delicious local cuisine and cider, showcasing all
that the Borough's many tempting eateries, orchards and breweries have to
offer. We work closely and in partnership with local restauranteurs and
venues. Your safety is our number one
priority.
Any events cancelled by the organiser, whatever the
circumstances, will be fully refundable.
We will contact you as soon as we know an event has been cancelled and
will refund your full ticket price plus any booking fees, no quibbles.
During these unprecedented times, we understand that there
are may be exceptional circumstances (e.g. being required to self-isolate or
quarantine in accordance with Test, Track & Trace) which may lead to you
being unable to attend. For this reason
we have formulated a cancellation policy designed to be fair both to the
customer and the restauranteur / event organisers.
From the moment we confirm any event we already have
incurred an expense and the closer to the date of the event the more expenses
rise.
Policy
First of all, if you cannot attend then please do remember
that you have the option of passing on / selling your tickets to friends or
family.
If you do
need to cancel, please email us at foodandciderweekend@visitarmagh.com
as soon as
possible to let us know. Cancellations can only be accepted through this email
address.
From the time of booking up until 13th September, if you
have to cancel, we will refund you 75% of your ticket value. On and from 14th
September until 24 hours before the event we will refund you 25% of your ticket
value *
We will also try to resell your ticket if we can and, if
this is possible, then you will be refunded the full ticket price of any resold
tickets.
If your cancellation is less than 24 hours before the event,
or on or after the event, we will not be able to offer you a refund.
Our team will be in contact the week prior to the event to obtain
more information on your preferred seating arrangements and to provide you with
all the necessary information about what you can expect during your visit, what
we may need from you, and our latest Covid-19 safety measures.
Please email foodandciderweekend@armaghbanbridgecraigavon.gov.uk if you have any event
related enquiries.
We encourage everyone to drink plenty of water, eat heaps of delish food and
consume alcohol responsibly. We embrace the craft cider way: drink local, drink
less & drink better!
2 ticket options available
Book Now