What's On
Blackwell House Orchard County Afternoon Tea
Blackwell House
27/09/2020
27/09/2020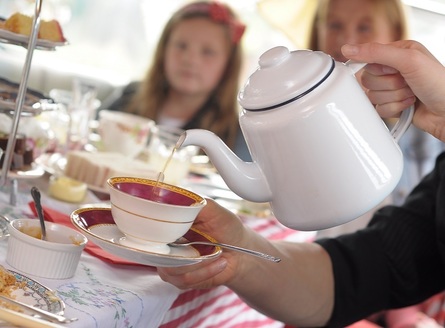 The Food and Cider Weekend Afternoon Tea at Blackwell House is tradition at its finest. Three tiers of taste explosions await you. Imagine tiers upon tiers of delicious little bites…
This tea talk will be led by an expert from Thompson Teas with an aperitif on arrival. Served in lavishly decorated rooms, surrounded by the romantic and exciting art of Fabian Perez relax and enjoy the afternoon. Kick off with a chilled glass of Bramley Gin Cocktail (non-alcoholic choice) while deliberating over the wide choice of Thompsons loose-leaf tea served in fine bone china cups.
Begin your taste experience with a shot glass of hot Roasted Squash Soup followed with warm savoury pastries and home-made classic finger sandwiches. Your sweet journey begins with light-as-air scones hot from the oven heaped with Joyce's wonderful raspberry or crab apple and clove jelly jam then crowned with Chantilly cream.
This Is followed by a mouth-watering array of carefully crafted bite sized pastries such as
Bramley Apple carrot cake, dark chocolate ganache eclairs, macaroon apple tarts, salted caramel donuts, candy striped meringues… Be sure to leave some space for the Bramley creme brûlée to finish off your orchard afternoon tea.
At Blackwell House we are passionate about providing the freshest and tastiest food, taking particular care in hand picking the best local produce available each day. We aim to reflect the changing seasons in our dinner menus and use our own free range eggs, meats from the award winning Quails and Forthill Farm butchers, locally grown vegetables from Crannagael House and our own garden and Northern Ireland dairy produce.
Should you have any dietary or access requirements, please mention during the booking process and these will be accommodated as far as possible.
Armagh Food and Cider
Weekend General Information and Cancellation Policy
Armagh Food and Cider Weekend is a series of unique
experiences which celebrate delicious local cuisine and cider, showcasing all
that the Borough's many tempting eateries, orchards and breweries have to
offer. We work closely and in partnership with local restauranteurs and
venues. Your safety is our number one
priority.
Any events cancelled by the organiser, whatever the
circumstances, will be fully refundable.
We will contact you as soon as we know an event has been cancelled and
will refund your full ticket price plus any booking fees, no quibbles.
During these unprecedented times, we understand that there
are may be exceptional circumstances (e.g. being required to self-isolate or
quarantine in accordance with Test, Track & Trace) which may lead to you
being unable to attend. For this reason
we have formulated a cancellation policy designed to be fair both to the
customer and the restauranteur / event organisers.
From the moment we confirm any event we already have
incurred an expense and the closer to the date of the event the more expenses
rise.
Policy
First of all, if you cannot attend then please do remember
that you have the option of passing on / selling your tickets to friends or
family.
If you do
need to cancel, please email us at foodandciderweekend@visitarmagh.com
as soon as
possible to let us know. Cancellations can only be accepted through this email
address.
From the time of booking up until 13th September, if you
have to cancel, we will refund you 75% of your ticket value. On and from 14th
September until 24 hours before the event we will refund you 25% of your ticket
value.
We will also try to resell your ticket if we can and, if
this is possible, then you will be refunded the full ticket price of any resold
tickets.
If your cancellation is less than 24 hours before the event,
or on or after the event, we will not be able to offer you a refund.
Our team will be in contact the week prior to the event to obtain
more information on your preferred seating arrangements and to provide you with
all the necessary information about what you can expect during your visit, what
we may need from you, and our latest Covid-19 safety measures.
Please email foodandciderweekend@armaghbanbridgecraigavon.gov.uk if you have any event
related enquiries.

We encourage everyone to drink plenty of water, eat heaps of delish food and
consume alcohol responsibly. We embrace the craft cider way: drink local, drink
less & drink better!
Should you have any dietary or access requirements, please mention during the booking process and these will be accommodated as far as possible. Please email foodandciderweekend@armaghbanbridgecraigavon.gov.uk for further assistance
Book Now