What's On
Cidery Tours at Armagh Cider Company
Armagh Cider Company
27/09/2020
27/09/2020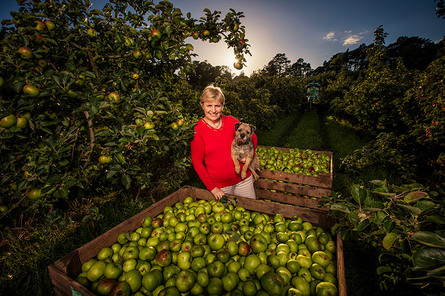 Learn about the Bramley apple and its unique PGI status, the history of Ballinteggart House and Armagh Cider Company. The Troughton family have been growing apples at Ballinteggart for four generations since 1898. The tour will take you through the orchards, the mill and the bottling hall for you to see the complete cider making process 'from blossom to bottle', showing the production of their own cider and apple juice. The tour includes tea/coffee and a slice of apple tart and a bottle of cider.
Should you have any dietary or access requirements, please mention during the booking process and these will be accommodated as far as possible.
Armagh Food and Cider
Weekend General Information and Cancellation Policy
Armagh Food and Cider Weekend is a series of unique
experiences which celebrate delicious local cuisine and cider, showcasing all
that the Borough's many tempting eateries, orchards and breweries have to
offer. We work closely and in partnership with local restauranteurs and
venues. Your safety is our number one
priority.
Any events cancelled by the organiser, whatever the
circumstances, will be fully refundable.
We will contact you as soon as we know an event has been cancelled and
will refund your full ticket price plus any booking fees, no quibbles.
During these unprecedented times, we understand that there
are may be exceptional circumstances (e.g. being required to self-isolate or
quarantine in accordance with Test, Track & Trace) which may lead to you
being unable to attend. For this reason
we have formulated a cancellation policy designed to be fair both to the
customer and the restauranteur / event organisers.
From the moment we confirm any event we already have
incurred an expense and the closer to the date of the event the more expenses
rise.
Policy
First of all, if you cannot attend then please do remember
that you have the option of passing on / selling your tickets to friends or
family.
If you do
need to cancel, please email us at foodandciderweekend@visitarmagh.com
as soon as
possible to let us know. Cancellations can only be accepted through this email
address.
From the time of booking up until 13th September, if you
have to cancel, we will refund you 75% of your ticket value. On and from 14th
September until 24 hours before the event we will refund you 25% of your ticket
value *
We will also try to resell your ticket if we can and, if
this is possible, then you will be refunded the full ticket price of any resold
tickets.
If your cancellation is less than 24 hours before the event,
or on or after the event, we will not be able to offer you a refund.
Our team will be in contact the week prior to the event to obtain
more information on your preferred seating arrangements and to provide you with
all the necessary information about what you can expect during your visit, what
we may need from you, and our latest Covid-19 safety measures.
Please email foodandciderweekend@armaghbanbridgecraigavon.gov.uk if you have any event
related enquiries.
We encourage everyone to drink plenty of water, eat heaps of delish food and
consume alcohol responsibly. We embrace the craft cider way: drink local, drink
less & drink better! This event is kindly supported by Tourism NI and
DAERA.
Child under 12 free of charge with paying adult
Book Now