What's On
Shades of the Past Walking Tours
Departing from the Boer War Memorial/Cannon on The Mall
11/12/2020
19/12/2020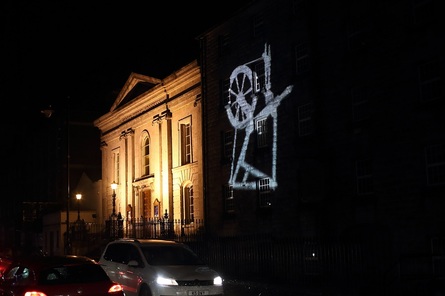 Follow in the footsteps of your guide to explore the hidden histories of Armagh. Uncover the secrets behind the Georgian doorways around the historical setting of the Mall, the lungs of Armagh during the Enlightenment. This tour will feature bespoke illuminations to link in with the stories on the route as "Shades of the Past" will be revealed. Intriguing stories of the city will be exposed en route. Learn more about the uprising by unruly schoolboys, listen to tales of sad souls who met their death at Armagh Gaol, and intriguingly what or who are the Cat and the Kitten? Discover more about the pastimes and the work carried out by the local citizens rich and poor in this bygone era.
Please be sure to wrap up warmly and wear appropriate footwear as this tour is based entirely outdoors.
Christmas in Georgian Armagh General Information and Cancellation Policy
Christmas in Georgian Armagh is a series of unique experiences which celebrate the many different aspects of Georgian Armagh including buildings, history and heritage.
We work closely and in partnership with local attractions, businesses and venues to deliver the events. Your safety is our number one priority. Please note that masks must be worn for any event which takes place indoors.
Any events cancelled by the organiser, whatever the circumstances, will be fully refundable. We will contact you as soon as we know an event has been cancelled and will refund your full ticket price plus any booking fees, no quibbles.
During these unprecedented times, we understand that there are may be exceptional circumstances (e.g. being required to self-isolate or quarantine in accordance with Test, Track & Trace) which may lead to you being unable to attend. For this reason we have formulated a cancellation policy designed to be fair both to the customer and the event organisers.
From the moment we confirm any event we already have incurred an expense and the closer to the date of the event the more expenses rise.
Policy 
First of all, if you cannot attend then please do remember that you have the option of passing on / selling your tickets to friends or family.
If you do need to cancel, please email us at georgianarmagh@armaghbanbridgecraigavon.gov.uk as soon as possible to let us know. Cancellations can only be accepted through this email address.
From the time of booking up until 24 hours before the date of your event, if you have to cancel, we will refund you 75% of your ticket value.
We will also try to resell your ticket if we can and, if this is possible, then you will be refunded the full ticket price of any resold tickets.
If your cancellation is less than 24 hours before the event, or on or after the event, we will not be able to offer you a refund.
Booking confirmations will also be forwarded providing information about the event.
Please email georgianarmagh@armaghbanbridgecraigavon.gov.uk if you have any event related enquiries.
Please be sure to wrap up warmly and wear appropriate footwear as this tour is based entirely outdoors.
Book Now