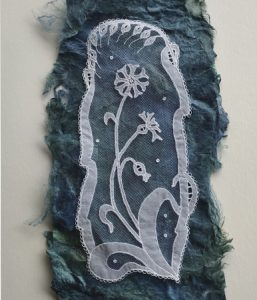 Thurs 18 – Sat 20 Aug [3 days] | 10.00am to 3.00pm | £80.00
Join award-winning designer and lace maker, Theresa Kelly, for this three-day workshop covering most of the traditional Carrickmacross Lace techniques of couching, guipure, loops, etc. Theresa will guide you through the making of this original flower design. Suitable for beginners and intermediate lace makers.
All materials are provided, however, attendees are encouraged to bring a small lamp to shine on their work for increased visibility.
Max: 12 | Suitable for 18+ | Tutor: Theresa Kelly