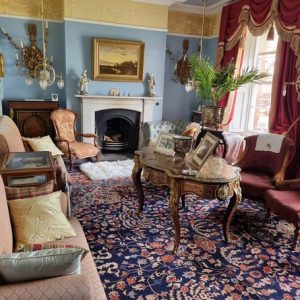 Milford House is located on 3 Victoria Street, Armagh. The original owners of Milford House were the McCrum and Miller families. They dined in great style in a dining room with a proper waterfall and a table that seated twenty four people! Our special themed tour focuses on a typical McCrum family dinner, the etiquette around what china, silver and glasses were used and why. Discover what they ate, the recipes used and why Harriette McCrum ordered her meat from Harrods!

Tours take place on Thursday and Friday at 2pm, 3pm and 4pm. The tours last 45 minutes, and are free but must be booked online.

On Saturday and Sunday, the venue is open from (Saturday) 10.30am to 6pm and on Sunday from 11am to 6pm and visitors are welcome to drop in during this time. No tickets required on Saturday and Sunday.
Should you have any access requirements, please email
foodandciderweekend@armaghbanbridgecraigavon.gov.uk for further assistance.