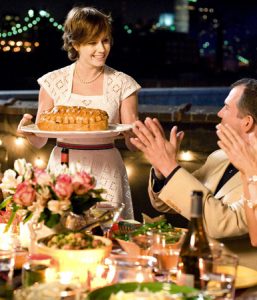 Dir: Nora Ephron | 2009 | 118 Mins | Certificate 12 | £12.00
A culinary legend provides a frustrated office worker with a new recipe for life in Julie & Julia, the true stories of how Julia Child's (Meryl Streep) life and cookbook inspired fledgling writer Julie Powell (Amy Adams) to whip up 524 recipes in 365 days and introduce a new generation to the magic of French cooking. Stanley Tucci co-stars in director Nora Ephron's delicious comedy about joy, obsession and butter. 
To complement the film, enjoy a small plate of two desserts that Julia herself would have been proud to bake! Bon appétit!