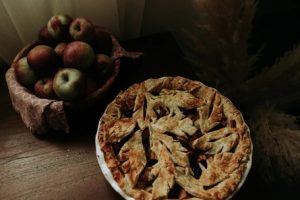 Join us at the Pudding Club with arrival at 11.30am at Blackwell House, where you will meet fellow Pudding Club members, will be marked with a glass of Armagh apple flavoured Prosecco (alcohol-free available), tea/coffee and scones. These will be hot from the oven served with Joyce's Armagh fruit preserves.
Next, the Pudding Master will give a jovial introduction to the Pudding Club and the Blackwell House team members. Before lunch, you can build up an appetite with a walk around the Blackwell House garden enjoying a talk about fruit growing in Co. Armagh. The Pudding Club Lunch, made up of the 'Pudding Parade' offers a wide selection of hot and cold puddings. These will honour our many Co. Armagh fruits. Your job is to taste the many puddings with a glass of matching sweet apple cider. You will be asked then to vote for your favourite Pudding of the Day. Watch the winning pudding, along with others, being demonstrated by Joyce so you can go home and cook them for friends and family. Your day concludes at approximately 4.30pm when you depart with a personalised framed certificate as a member of the Pudding Club. You'll also get a folder full of Armagh fruit pudding recipes.
Ticket includes: tea/coffee and scones, a ten course pudding lunch plus a glass or two of local cider, a guided tour of Blackwell House gardens plus a cookery demonstration of these delicious puddings by Joyce.
The event takes place from 11.30am -4.30pm and tickets cost £90.
Should you have any dietary or access requirements, please email foodandciderweekend@visitarmagh.com