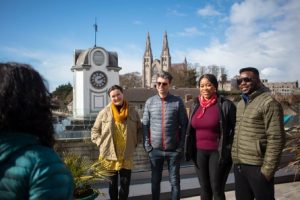 The annual evening walking tour of Armagh for the Food and Cider Weekend takes place on Friday 9 September 2022 and is a fusion of delicious food, locally produced drinks.
It is also a chance to engage with producers from the Food Hearland and enjoy a tour of Armagh City centre. You'll embark on this guided walk between various locations with a Blue Badge tour guide pointing out local landmarks, historical information, notable buildings and personalities on the journey.
En route are visits to restaurants to learn about our local food and drink and hear the stories of the people who create the produce. As part of this experience you'll have the opportunity to taste and savour a selection of the food and local craft ciders/apple juice whose provenance is Armagh City and surrounding area as crafted by producers and chefs from the Food Heartland.
The group will be accompanied by cider expert Bill Bradshaw who is also an award winning drinks photographer and author. The tour begins at the Charlemont Arms Hotel 6.30pm where you will begin with a platter of local savoury delicacies accompanied by a selection of local craft ciders and apple juice. Dress appropriately for the weather.
The tour takes place from 6.30pm – 9.30pm and tickets cost £40 per person.
Please email foodandciderweekend@armaghbanbridgecraigavon.gov.uk should you have any access or dietary requirements.