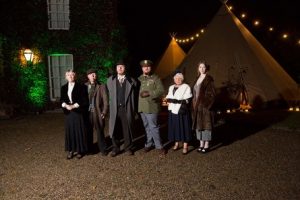 Travel back in time to 1786 and help solve the wicked crime of murder under the apple tree. Which of the rotten apples has commited this heinous crime?
Have an enjoyable evening dining and helping to investigate and solve this crime in the beautiful surroundings of Armagh Cider Company. Your three course meal will be prepared by local Michelin star chef Barry Smyth from The Rovin' Stove.
Ticket includes a cider reception and a glass of cider of your choice with each course.
The event takes place from 6.30pm – 10.30pm and tickets cost £48 per person.
Should you have any dietary or access requirements, please email foodandciderweekend@visitarmagh.com