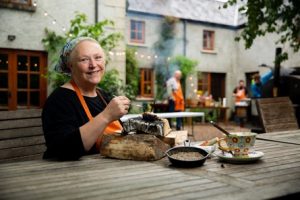 Have you ever fancied cooking with fire, outside in the fresh air, with the simplest of tools and the freshest of seasonal local ingredients? If you have, then this one-day course is for you.
Over the course of the day, the Chapman family will share their knowledge and skills with you about the many ways we can use fire to cook with. You will arrive to a warm brew and the sound and smells of their woodfired outdoor kitchen fired up for the day ahead including an offset smoker, fire pit, asado grill, pizza oven and plancha. Expect to see a well-stocked ingredient table ready for you to experiment with from the get go as you cook your own breakfast using the various fire cooking equipment.
After breakfast you will then walk-through basics in fire management, woods and fuels and sustainability. Learn how to prepare high-quality meats like venison, lamb, beef and fish various ways as you prepare for a day of eating. Basics in dry rub preparation and marinating techniques will also be shared as you prepare your own rubs for your BBQs at home. You will learn about different fire cooking techniques from around the world, from Scandinavia to South America, as well as how to cook the perfect steak different ways. As the day concludes you will have enjoyed a wood fired feast with new found friends, leaving inspired to make your own wood fired kitchen, going home full and smelling of smoke.
Should you have any dietary or access requirements, please mention during the booking process and these will be accommodated as far as possible.
Please email: foodandciderweekend@armaghbanbridgecraigavon.gov.uk for further assistance.
BYOB to enjoy with your feast, not suitable for children.