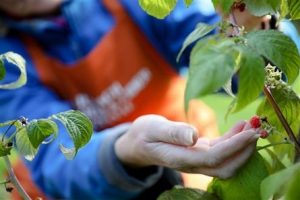 At this event, where all the family can join in, you are invited on a wild food forage in the grounds of Oxford Island. You will discover what the autumn season has to offer and have fun picking wild plants. Learn what you can and can't eat and ways to use the produce you have gathered. You will also get the opportunity to learn about the medicinal properties of some of the plants you have picked. Local forager/instructor Greg McAleenan has a lifetime of experience of living out of the hedgerows on the shores of Lough Neagh. Resident chefs for the day, Phelim and Wayne, will also teach you how to cook Lough Neagh's most famous produce – the eel, on an open fire (weather permitting).
What should you bring? Snack – bring a healthy snack if you get peckish along the way and a bottle of water. Hat and warm clothes. Waterproofs. Good comfy shoes or wellies. Paper and pen if you want to take notes. Camera if you want to take pictures. A basket, if you have one, or a suitable container for foraging and collecting.
Should you have any access requirements, please mention during the booking process and these will be accommodated as far as possible. Please email foodandciderweekend@armaghbanbridgecraigavon.gov.uk for further assistance.
This event takes place on Sunday 11 September from 2-4pm at Kinnego Bushcraft Centre, near to Oxford Island.