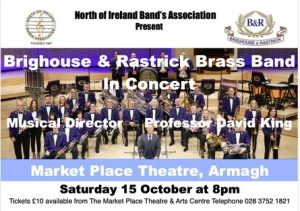 The award-winning Brighouse and Rastrick Band under the Directorship of Professor David King will be performing at Market Place Theatre Armagh on Saturday 15th October at 8pm.
The brass band have been performing at the very highest level for over a century but achieved notoriety in 1977 when the brass band caught the ears and imagination of the British public with their recording of The Floral Dance holding the number two position in the singles chart for nine weeks and only beaten to the top spot by Paul McCartney's Mull of Kintyre.The brass band continue to perform at the very top level and have won the Yorkshire Brass Band Championships no less than 10 occasions.
In its time the majority of premier brass band championships have been held by 'Briggus' whilst the brass band has also attracted a formidable reputation for highly entertaining concerts for both the general public and brass band connoisseur.
Since 2011 the Band has continued to feature consistently in the major contest prize lists and has maintained a top three position in the World Brass Band Rankings.
Professor David King, an internationally renowned Conductor and Musical Director, has represented England in the European Brass Band Championships on thirteen occasions winning the title an unprecedented ten times. He also achieved a 'grand slam' in 2003 as winning conductor at all four major international music festivals in the same year