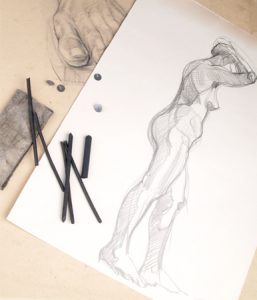 LIFE DRAWING
Sat 22 Oct | 10.00am – 4.00pm | £45.00
Enjoy a full day life-drawing workshop with professional tutor and model capturing the human form. Our professional model will demonstrate a variety of short and long poses as we discover new ways of drawing the human body exploring gestural and structural drawing, contour and anatomy. We will be working with basic drawing materials on paper, using charcoal, pencils, putty rubber.
This is an open class, suitable for all levels. The tutor will respond to individual abilities and needs, demonstrating a number of techniques that can help make a drawing look as realistic and to scale as possible, and helping train the eye.
Easels and drawing boards will be available. Please bring some basic drawing materials to class such as charcoal sticks, pencils, putty rubbers, masking tape and LOTS of large sheets of paper – it doesn't need to be good quality.
Max No: 10 | Tutor: Orlaith Cullinane | Life Model: Hattie Godfrey | Suitable for age 18+