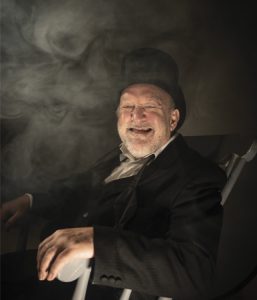 Nicholas Collett and Gavin Robertson Present
The Ghost Of A Smile
Sat 22 Oct | 8.00pm | £15.00 | £13.00
Two of Charles Dickens' creepy tales – with a comic twist. Tales with a tingle, but also a giggle! Two yarns to chill and charm! Stories with a shiver and a smile!
'The Queer Chair' from 'The Pickwick Papers' tells the story of Tom Smart, who, sheltering from a storm for the night, gets more than he bargained for… from a wizened and debauched piece of furniture!
'The Ghosts of the Mail' tells of Jack Martin, who after a well-lubricated supper in the Old Town of Edinburgh, climbs into a compound containing the derelict skeletons of old coaches and falls asleep, whereupon he wakes as a passenger on an eighteenth -century mail coach, with three creepy companions.
Like 'The Woman in Black', but funnier, with fewer people!
'Robertson and Collett are exceptional!' Kansas City Star
'Compelling to watch…' The Guardian
Recommended for age 11+
This event takes place in our Studio Theatre with an unreserved, tiered seating layout.