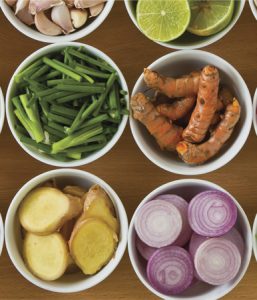 THAI COOKING
Thurs 3 Nov | 7.00pm – 9.00pm | £22.00
The best Thai food comes from using the freshest ingredients, along with the skilful art of preparation and combining the right ingredients at the right time to create an exceptional dish. Unlock the secrets of Thai cooking and master the art to impress your loved ones at home. In this evening workshop you will be engaging your five senses to achieve these authentic Thai flavours.
This class is designed for people of all experience levels, from total beginners to seasoned cooks looking to broaden their horizons. By understanding commonly used ingredients, cooking techniques and traditions, you will gain the knowledge and confidence to cook your own delicious Thai feasts as you create a three-course meal.
Please notify the tutor of any allergies prior to attending the course. Inform Box Office at time of booking to receive tutor email address.
Max: 9 | Suitable for 16+ | Tutors: Thai Arts NI