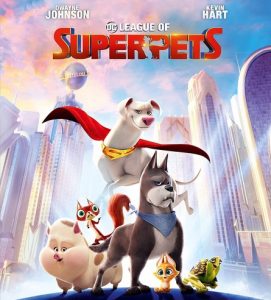 Cinemagic Young Audiences Supporting Foodbanks
Friday 4th November 11am
DC LEAGUE OF SUPER PETS (PG) (IN PARTNERSHIP WITH ARMAGH FOODBANK)
DC LEAGUE OF SUPER PETS: When Superman and the Justice League are kidnapped, Krypto must convince a rag-tag shelter pack – Ace the hound, PB the potbellied pig, Merton the turtle and Chip the squirrel – to master their own newfound powers and help him rescue the superheroes. 
FREE ENTRY WITH FOOD BANK ITEM BUT TICKETS MUST BE PRE BOOKED
Start time: 11am | Finish Time: 12.45pm
This screening is part of the Cinemagic initiative 'Young Audiences Supporting Foodbanks'.
Armagh Foodbank is part of a nationwide network of foodbanks, supported by The Trussell Trust, working to combat poverty and hunger across the UK.
Rather than paying for a regular ticket to gain entry to the Cinemagic film screening, audiences are asked to donate essential items / food items on the day needed by the Food Bank to support the local community.