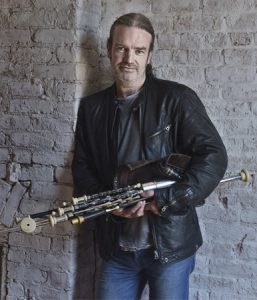 William Kennedy International Piping Festival Presents
They Danced When The Musicians Played
Sat 19 Nov | 1.00pm | £12.00
'They Danced When The Musicians Played' sees leading Irish composers given the task of weaving the two distinct sounds of the uilleann pipes and piano trio together, with new music inspired by the evocative paintings of John B. Vallely, one of Ireland's most prolific painters.
The Fidelio Trio are Darragh Morgan [violin], Tim Gill [cello], and Mary Dullea [piano]. Shortlisted for the 2016 Royal Philharmonic Society Music Awards, the Fidelio Trio are enthusiastic champions of the piano trio genre, performing the widest possible range of repertoire on concert stages across the world.
Cillian Vallely is the uilleann pipes and low whistle player with the renowned Irish band Lúnasa, described as 'The hottest Celtic band on the planet' [Irish Voice]. In recent years, he has played and recorded with Bruce Springsteen, Natalie Merchant, Mary Chapin-Carpenter, Tim O'Brien, and Riverdance, in addition to recording as a guest on over fifty albums.
The performance will feature new works by no less than nine Irish composers including Linda Buckley, Irene Buckley, Rose Connolly, Niall Vallely, Shaun Davey, Neil Martin, and two works for Fidelio Trio by the late Mícheál Ó Súilleabháin.
This event takes place in our Studio Theatre with an unreserved, tiered seating layout.