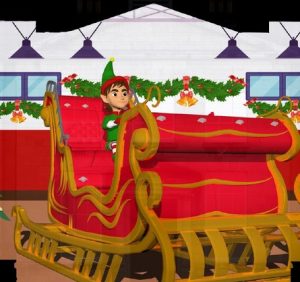 Join us for an unmissable experience as the city lights up for Christmas. The dramatic 'Coming Home for Christmas' Light Show will transform the Market House, a beautiful Georgian building into a shimmering canvas for images, special effects and other surprises!
Tickets will be bookable from 10am on Monday 7thNovember 2022.All tickets must be booked online and everyone, including all children, must have a valid ticket. Please note that you require a valid email address for downloading tickets.
A limited number of places are available on an accessible platform. Each ticket booked is for one person with special requirements and one carer (no charge for carer's ticket). Just select 1 ticket and the 2nd carer ticket will automatically be added. A maximum of 2 tickets (4 people) are bookable. Additional standard tickets can be booked HERE
There will be a minimal charge of £1.00 per person for the Light Show. This small charge allows us to continue to offer the Light Show on the Friday night so that more families can enjoy the experience.
Tickets are only available online to this years' Light Show. You must have either a printed ticket or a ticket on your mobile device. There will not be any tickets available other than online. Tickets are only valid for the show time booked. We will be checking tickets when you arrive – if you have them on a mobile phone screen, we'd appreciate if you could have it magnified and the screen as bright as possible. Please do not arrive at the Light Show site without a ticket – as you will not be able to gain access.
ACCESS TO SITE IS VIA MARKET STREET ONLY
ALCOHOL FREE ZONE: The Georgian Weekend Light Shows are a family friendly events and alcohol is not permitted, by law, on the event site.
CHILD PROTECTION: All children under the age of 14 must be accompanied by an adult at all times. If your child is missing, please report to the nearest steward who will deal with the situation immediately.
STEWARDS: In the interest of safety for everyone, you are requested to co-operate with stewards & security personnel at all times.
WEATHER CONDITIONS: As this is an outdoor event, please dress accordingly. In the event of wet weather, and for the safety, comfort and viewing of others, we kindly request that umbrellas are not used for the duration of the Light Show – stewards may ask you to comply with this request.We suggest that you wear hats / coats with hoods / ponchos etc.
PARKING: Parking, including accessible spaces, is available in a number of car parks throughout the city centre. Please note that no vehicles will be permitted access to Market Street, Castle Street, Russell Street & Lower English Street.
We hope that you enjoy this year's Georgian Weekend Light Show
Access from Market Street only. Parking available in city centre car parks