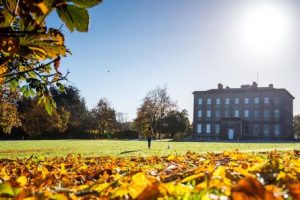 If you enjoy the great outdoors with a combination of beautiful views, being close to nature and local history, then the Armagh Palace Demesne Walk is a perfect combination of all of these.
This guided walk of approximately 1 hour will include a leisurely walk through the splendid Place Demesne with its towering mature trees and open green spaces not to mention panoramic views over the city of Armagh.
You will be regaled with stories of buildings that can be seen within the grounds and those from a distance. Your guide will share their knowledge of the former Archbishop of Armagh, Richard Robinson 1765 to 1794, a colourful personality, often known as the Builder of Armagh who had the Primate's Palace built in 1790.
The walk will start off in front of the Palace building and you will spend an hour exploring the grounds which include an ice house and the ruins of a 13th Century Franciscan Friary. The walk will finish within the Demesne.
Suitable for children aged 6+. Please be sure to wrap up warmly and wear appropriate footwear as this event is based entirely outdoors. A reasonable level of fitness is required to participate in this event.
Please note this tour does not include a guided tour of The Palace.
This tour takes place on 26th November at 3pm and costs £6/£4. Concession is applicable for children aged 12 and under and those aged 60+.
General Information regarding Armagh Georgian Festival 2022
TICKETS CANNOT BE EXCHANGED OR REFUNDED Once purchased, your ticket is your property. Armagh Georgian Festival cannot refund its value to you, nor exchange it for any other ticket under any circumstances. Where an event goes ahead we accept no responsibility for tickets that are unable to be used due to circumstances outside of our control, for example bad weather and transport difficulties.
GETTING HERE – For information on how to travel to Armagh please see this link https://bit.ly/3DQjSNh We support and encourage the concept of reduce-reuse-recycle in all aspects of the Armagh Georgian Weekend. We also encourage our visitors to come on foot or make use of public transport as far as possible. Please see this link for public transport options – https://bit.ly/2JaiMBk
PARKING INFORMATION:
There will be no park and ride service on Georgian Day this year. Please use city centre car parks, which are free of charge for Georgian Day. All city centre car parks have accessible parking spaces, no additional accessible spaces will be available for the events. Please see car park map using this link – https://bit.ly/3rtGoHG
ROAD CLOSURE INFORMATION:
Please note that there will be road closures in place throughout Armagh during Friday and Saturday 25th and 26th November during the following times at the listed locations:
Castle Street closed Friday 25th November and Saturday 26th November from 3pm until 9pm
Market Street through to Lower English Street junction with Russell Street closed Friday 25th from 3pm until Saturday 26th at 11.00pm
Upper English Street from junction of Russell Street to junction at College Street, closed on Saturday 26th from 01.00am until 11.00pm
Russell Street Closed on Saturday 26th from 01.00am until 11.00pm
Mall East lane closure traffic enter from College Hill end one way from Friday 25th November at 8pm until Saturday 26th November at 11.00pm
When you arrive at the event:
Please follow the information and directional signage and obey any instructions or guidance given by staff and stewards, or over the PA system. This will help you get to where you need to be in the safest and most effective way.
Should you have any queries, please email georgianarmagh@armaghbanbridgecraigavon.gov.uk
We hope you enjoy the festival and if you are on social media, please feel free to share any memories of your visit using #visitarmagh and #ArmaghGeorgianFestival.