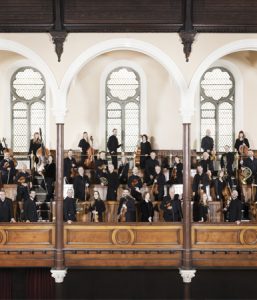 The programme for the evening will include Eleanor Alberga: Nightscape | Mozart: Horn Concerto No. 4 | Gipps: Horn Concerto | Mozart: Symphony No. 36 Linz
Featuring: Leslie Suganandarajah: Conductor | Ben Goldscheider: Horn
The Ulster Orchestra is delighted to perform once more at The Market Place, and Leslie Suganandarajah will be your guide as we start our evening in the Caribbean!
Eleanor Alberga's serenade, Nightscape, invites you to listen to the cicadas, geckos and jazzy parties of Jamaica at night, before soothing you to sleep with a lullaby after all that fun.
Nightscape was written for similar instrumentation as that used by Mozart, which provides a neat link into the first of two concertos for Horn and Orchestra. GCSE Music students will be familiar with Mozart's Fourth Horn Concerto, a cheerful, high-energy work with a soulful central movement and hunting calls galore in its famous finale. Ruth Gipps draws on both Mozart's concerto structure and the jazz and blues influences heard in Nightscape for her own Horn Concerto. An evening of upbeat joy draws to a conclusion with Mozart's exuberant Symphony No. 36, Linz. This concert is certain to shake off the January blues!