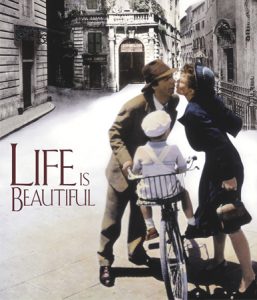 Fri 27 Jan | 11.00am | £3.00 [Teachers Free]
Dir: Roberto Benigni | 1997 | Certificate PG
This film is being screened in commemoration of Holocaust Memorial Day 2023.
In 1939, young Italian Jew Guido Orefice [Roberto Benigni] travels with his friend Ferruccio to Arezzo, where his uncle has promised to help set him up with a bookshop. Guido immediately falls in love with beautiful gentile Dora [Nicoletta Braschi], and eventually woos her away from local fascist official Rodolfo. Guido and Dora marry, have a son, Giosué, and are very happy. However, when war breaks out a few years later, Guido and Giosué are moved to a Nazi concentration camp. Determined to protect his son from the horrors of war, Guido tells him that the camp is all part of a game, and that Giosué's prize will be a life-size version of the toy tank he loves to play with.
The film won three Academy Awards, including Best Foreign Language Film and Best Actor for Roberto Benigni.
In Italian with English subtitles.