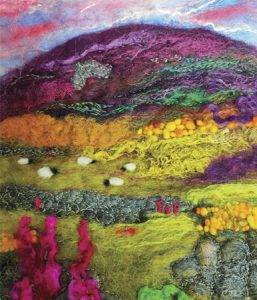 Sat 25 Feb | 10.00am – 4.00pm | £35.00
Join textile artist Caóilfíonn Murphy O'Hanlon, as she guides you through the process of creating your own wool and silk painting use wet felting techniques. You will learn how to build up your textures and explore carding techniques, prefelt inclusions, nuno techniques and how to manipulate a variety of wools and silks.
Bring a small and large towel, basin / bowl and some photos / pictures for inspiration.
Max: 12 | Suitable for 16+ | Tutor: Caóilfionn Murphy O'Hanlon [Cushla of Gullion]