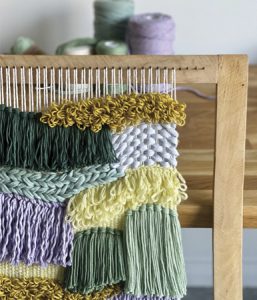 Sat 4 Mar | 10.00am – 4.00pm | £50.00
Contemporary designer and weaver Karolina Lisek from Little Tangle hosts a one-day tapestry weaving workshop exploring the art of hand weaving in a modern context. Karolina will teach the foundation skills of tapestry weaving with participants using her new larger sized frame looms. Participants will create an abstract wall hanging using a range of techniques such as plain weave, rya knotting and sumak. As well as covering the basic techniques, the workshop will encourage individual expression and experimentation through the use of texture, colour and composition.
All materials will be provided.
Max No: 12 | Tutor: Karolina Lisek [Little Tangle]