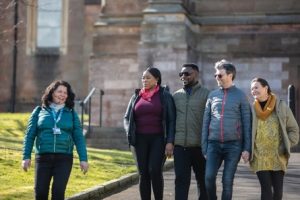 Is your pooch your best friend and you like to explore together? If yes, then why not book a space on the Public Art Trail of Armagh Walking Tour and bring your pet too? While this tour is dog friendly, it is also open to anyone interested in learning about the public art in the city.
This experience takes place on Friday 31st March and includes a leisurely 2-hour walking tour over a distance of 1 mile including The Mall, Scotch St, Market St and English Street to enjoy and discover some of the Public Art of the city such as:
Turning Point
Memorial to Armagh Railway Disaster
For the Love of Emer
Armagh Markets & Fair Days
Star Stone
The Angel & Gargoyle Trail
Celestial Sphere
We welcome friendly, well-behaved dogs who are happy to remain on their lead for the duration of the tour to ensure the comfort and safety of other tour participants. Only one dog per booking is permitted but please bear in mind that there may well be other dogs on this tour. Please consider for the safety of all how your dog is likely to react with other dogs in proximity and other participants.
Please dress appropriately for all types of weather, with walking shoes. A moderate level of fitness is required for this walk. If you have any special requirements please advise at the time of booking. To ensure that participants can hear the narrative of the tour everyone is issued with an earpiece and an audio receiver.
Meeting Point: 2pm Boer War Memorial, opposite the Cannon, The Mall, Armagh
Finishing Point: Charlemont Arms Hotel, Upper English Street, BT61 7LB
Duration of the Tour: approx. 2 hours
Price: £10 per person, with dog free admission. The ticket price includes guided walk followed by a drink of your choice in the outdoor Courtyard area of the Charlemont Arms Hotel.
Please forward any queries to info@visitarmagh.com