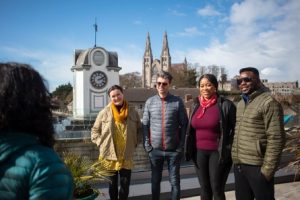 Starting Point: Armagh County Museum. Main entrance of the museum on Mall East.
Finishing Point: Finish at the junction of Abbey Street and English Street close to the sculpture "Celestial Sphere."
Armagh is an ancient compact city soaked in myths, legends, history and heritage. It is located in the heart of Ulster and well known for being the ecclesiastical capital of the island of Ireland. One of the best ways to discover more about the story of this city and its citizens from the pre-Christian era up to modern times is to book a guided walking tour which will take you through the city centre at a leisurely pace, stopping off at various locations on a route of approx 1 km. This bijou of a city centre is a conservation area with many beautiful buildings and an impressive selection of Public Art. Your guide will entertain you with facts and anecdotes as they escort you towards the Hill of Armagh, where you will be treated to a feast for the eyes with the panoramic vistas from Ard Mhacha, height of Macha.
Please dress appropriately for all types of weather, with walking shoes. You may wish to bring a coat and small umbrella, just in case. A moderate level of fitness is required for this walk. Individual headsets will be provided for each member of the group to ensure that everyone can hear and follow the tour. This tour is suitable for adults & children aged 6+
If you have any special requirements please advise at the time of booking by emailing walkingtours@armaghbanbridgecraigavon.gov.uk
Tour runs each Thursday – Saturday at 11am and Sunday at 2pm from Thursday 15 June until Sunday 10 September 2023.