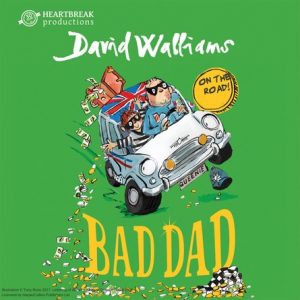 Gather round and give three cheers for Reverend Judith. She is receiving the Citizen of the Year Award for her amazing work with the food bank. Come congratulate her and hear how it all started with Frank and his dad, Gilbert. Gilbert is a bit of a local celebrity. He was no other than the legendary 'King of the Track', Gilbert the Great. That was until a tragic accident put a stop to his track-racing days. Driven to desperate measures in order to provide for his son, he agrees to become a get-away driver for the local baddies.
Join Heartbreak Productions for this warm-hearted tale that follows the highs and lows of a father-son relationship. An open-air adaptation of David Walliams' 'Bad Dad' is the perfect summer family entertainment. So, pack your picnics, grab your wet weather gear or sun-cream [or both], something to sit on, and join Frank and Gilbert as they navigate their way through car chases and convicts in the struggle to escape the clutches of the local crime lord and clear Gilbert's name.
Please note this event will take place outdoors at the Palace Garden, Palace Demesne, Armagh. We encourage you to dress accordingly. The running time for this performance is approximately 2Hrs including interval.
Age Guidance: 7+
Illustration © Tony Ross 2017. Lettering of author's name © Quentin Blake 2008. Licensed by HarperCollins Publishers Ltd.