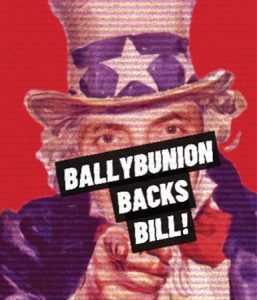 An epic, black comedy of presidential scandal and small-town mayhem!
Join a star-studded cast including Sarah Street [Paramount's Inside Amy Schumer, Law & Order] and John Keating [HBO's Boardwalk Empire, Disney's The Lone Ranger] in a raucous theatrical campaign that will rewrite history as you know it. It's September 1998, and in the coastal town of Ballybunion County Kerry, ambitious schemer Roger Hassett attempts to capitalise on President Clinton's golf holiday. His scheme quickly takes a turn when Monica Looney stands defiantly against his plans for her beloved shop 'Monica's Shoe Repair'.
Don't miss this side-splitting world-premiere touring production by acclaimed playwright Seanie Sugrue brought to life on stage!
Recommended for age 14+ due to strong language and adult themes.