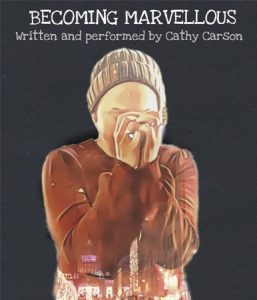 Written and performed by Cathy Carson.
The story of Danielle is of tears and laughter, of golden moments in a day-long struggle, of rolling with the punches and coming through a winner.
Cathy Carson is a writer and spoken word artist who combines poetry and storytelling and is known for her powerful, emotive, engaging and deeply affecting performances. Her work focuses on the human connection and condition. She has written and performed for festivals, theatre, television and radio podcasts. In 2022 she was shortlisted for the Saboteur award for Best Spoken Word Performer.
The story begins in Belfast in the 1970's, where life at home is as dangerous for young Danielle as it is on the streets. She feels like she is drowning, but there are lifeboats around her, people who will save her. If only she could trust them enough to take their hands.