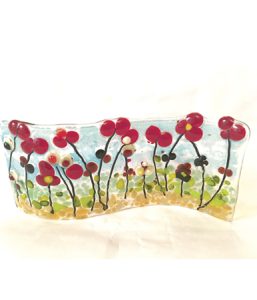 Fri 11 Aug | 10.00am – 3.00pm | £60.00
Join expert glass artist Keith Sheppard for this colourful fused glass workshop to create a beautiful 24cm x 20cm freestanding curved glass landscape or two flat 24cm x 10cm glass landscapes. The freestanding piece will look stunning set close to a window or in the evenings will glow beautifully with a small candle set behind it. The two flat glass landscapes can be set in one or two mounted box frames and hung as a decorative artwork on the wall.
Working with different coloured glass Keith will teach you various design techniques; demonstrate the tools required for glass cutting and how to work safely and handle glass with confidence. Your completed fused glass landscapes will be taken back to Keith's studio for firing and returned to the venue one to two weeks later for collection.
All tools and materials will be provided. You may wish to bring your own safety glasses. Please wear suitable clothing and flat shoes.
PLEASE NOTE: Completed glass decorations will not be returned by post. Collection only from the venue.
Max No: 8 | Suitable for 16+ | Tutor: Keith Sheppard [Glass Artistry]