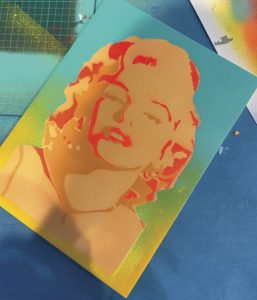 Sat 12 Aug | 10.00am – 2.00pm | £35.00
Artist Zippy will introduce you to the art of using spray paint as a medium to create your own piece of art on canvas. You will learn the process of designing, cutting and layering your stencils to build your design. Zippy will demonstrate spray-painting techniques to ensure that your artwork has a professional quality finish. At the end of this workshop you will take home a unique multi-coloured contemporary artwork that will look fantastic on any interior wall.
This workshop is for beginners or those interested in the art of spray painting or mural artwork. Ideal for students studying GCSE, AS or A Level Art, Design, Technology to build their course work content.
Zippy is an experienced local Mural artist working within the medium of spray paint for several years.
Max: 10 | Suitable for 16+ | Tutor: Zipporah Reynolds [Artist Zippy]