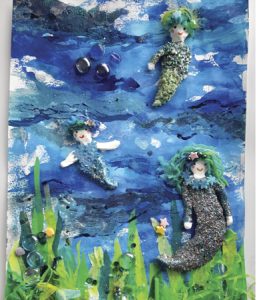 Sat 19 Aug | 10.00am – 12.00pm | £13.00
It's summer so make a splash creating your own Merpeople. Let's start by making them a magical underwater world to live in. It will be a mixed media extravaganza, using a wide variety of materials to create a three-dimensional nautical artwork. There will be painting and designing, with lots of decorations available to add that extra touch to your piece [sequins anyone?]. A perfect opportunity to let loose your imagination!
All materials supplied.
Max: 12 | Suitable for age 7–12 years | Tutor: Lina Morgan – A Misty Kind of Blue