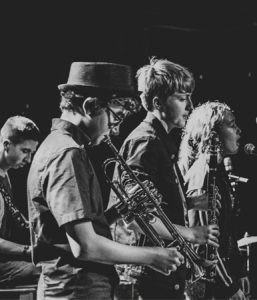 Sat 19 Aug | 7.30pm | £10.00 | £5.00 [under 18s] | £25.00 [family of 4]
MOBO nominated drummer and composer David Lyttle started out in the band of Irish guitarist Louis Stewart, and has gone on to bring his projects to almost forty countries, including recent tours to North Africa, the Middle East and Southeast Asia. He has worked with jazz icons from Joe Lovano to Dave Liebman to Kurt Rosenwinkel and collaborated in hip hop with Talib Kweli and spoken word with Liam Neeson. He has carried out a number of ambitious artist residencies, including a US coast-to-coast road trip performing for subcultures ranging from bikers in California to UFO tourists near Area 51.
Closer to home, David is the artistic director of Jazzlife Alliance, an Arts Council of Northern Ireland funded talent organisation which mentors gifted young musicians and launched the innovative Jazz Juniors scheme for under 18s in 2021. His return to the Market Place will see him perform alongside many of these up-and-coming young talents.
'One of the world's great contemporary drummers' All About Jazz
'One of the best listening experiences you're likely to have this year' Rolling Stone
'The best in jazz coming out of Ireland in recent times' The Independent