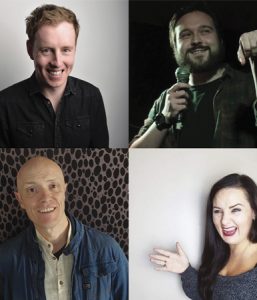 Sat 26 Aug | 8.00pm | £16.00
The Market Place Theatre Stand-Up Sessions continue to have audiences rolling in the aisles with another evening of side-splitting comedy genius.
Ian Thomson has been performing stand-up comedy since 2017 from Ireland to as far away as New Zealand. With his absurdist take on everything from politics to parenthood, Ian has established himself as a force on the NI comedy scene, appearing alongside some of the biggest acts on the local circuit.
Andrew Ryan's quintessentially Irish storytelling abilities and cheeky, friendly demeanour make him a natural stand up. He has performed to rave reviews and sell-out crowds at the Edinburgh Fringe Festival over the last decade as well as appearing in numerous TV comedy appearances.
Luke McGibbon has been performing stand-up on and off for the guts of a decade, in between stints as a psychotherapist. One job for talking, one job for listening! Luke's whimsical sense of humour has entertained many up and down the country.
Bronagh Diamond has made a big impression on the Northern Irish comedy scene since she started. With a penchant for random tangential rants, this self-professed 'ambassador for crazy people' has the stage confidence and attitude of a pro.
Recommended for age 16+ as may contain strong language and adult themes. This event takes place in our Studio Theatre with an unreserved, cabaret style seating layout.