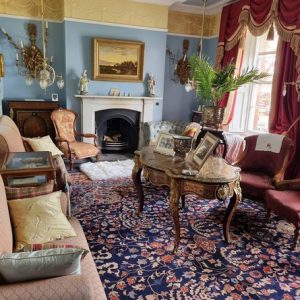 Milford House is located on 3 Victoria Street, Armagh. The original owners of Milford House were the McCrum and Miller families. They dined in great style in a dining room with a proper waterfall and a table that seated twenty four people!
Our special themed tour focuses on a typical McCrum family dinner, the etiquette around what china, silver and glasses were used and why. Discover what they ate, the recipes used and why Harriette McCrum ordered her meat from Harrods!
This event takes place on Thursday 7th September, Friday 8th September, Saturday 9th September and Sunday 10th September, with tours running 2.00pm – 2.45pm, 3.00pm – 3.45pm and 4.00pm – 5.00pm at Milford House, 3 Victoria Street, Armagh, BT61 9DS – map:
Tickets are free, but must be booked online.
To view General Information and Cancellation Policy for Food and Cider Weekend 2023 – please click:
https://bit.ly/3KtYLXu