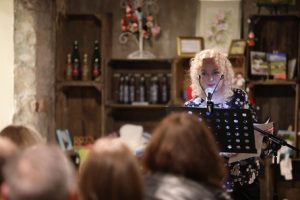 Come and listen to writers read their Flash Fiction. Highly entertaining, with a variety of stories to suit every palate and an opportunity to meet and mingle with new, emerging and well-established writers in the area and from further afield.
Flash Fiction Armagh provides a platform for writers to experience immediate audience reaction to their work – a valuable resource for those who sit all day in a room by themselves writing. We encourage people to attend the event whether they write, read or prefer to listen.
You will be inspired by the setting of Long Meadow Cider's barn.
Details for writers on how to submit Flash Fiction for the event can be found here:
https://www.byddilee.com/flash-fiction-armagh/about-flash-fiction-armagh/
Entries are encouraged from experienced writers, new writers, authors who can extract a short section from their books that feels complete, and poets whose poetry reads like prose. Ticket includes finger food and a glass of cider or apple juice.
Should you have any dietary or access requirements, please mention during the booking process and these will be accommodated as far as possible. Please email foodandciderweekend@armaghbanbridgecraigavon.gov.uk for further assistance.
This event takes place on Thursday 7th September 2023 from 7.00pm – 9.30pm at Long Meadow Cider, Portadown. Ticket price £15.00
To view General Information and Cancellation Policy for Food and Cider Weekend 2023 – please click:https://bit.ly/3KtYLXu