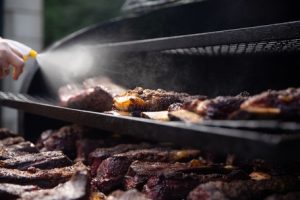 Fifth Quarter is a new restaurant is based in the decadent banking hall of the former Provincial Bank in Banbridge.
The evening will commence with a Crémant de Bourgogne reception followed by our six course beef taster menu.
Our team will treat you to six beautiful dishes , showcasing all the fabulous flavours of beef from the head to the tail! and each course will be paired with wine carefully selected and presented by Charles Robb of Robb Brothers Wine Merchants. Charles will talk you through his wine selection after each course.
Beef Tasting Menu
Carpaccio
Beef tartare
Beef shin
Fifth Quarter ravioli
Daube of beef
Fifth Quarter rich chocolate tater
Should you have any dietary or access requirements, please mention during the booking process and these will be accommodated as far as possible. Please email foodandciderweekend@armaghbanbridgecraigavon.gov.uk for further assistance.
This event takes place on Thursday 7th September 2023 at 7.30pm until 10.00pm at Fifth Quarter Restaurant,
50 Bridge St, Banbridge BT32 3JU
. Ticket price £79.00
To view General Information and Cancellation Policy for Food and Cider Weekend 2023 – please click:https://bit.ly/3KtYLXu