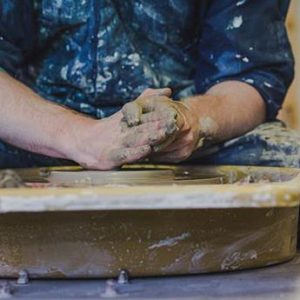 Get creative at a Pizza and Pottery Class which will give you the chance to create your own handmade pottery before enjoying locally made pizza and either local artisan cider or apple juice.
MUD Ireland Potter will demonstrate how to create a pot and then teach each visitor how to throw their first one, you should have time to make 2 pieces each. You can pick your favourite to be fired in the kiln, the other will be recycled. Aprons will be provided to keep you clean, whilst clay washes out it's best to wear dark colours and trousers to keep yourself decent! Long nails and pottery don't go very well, so if you want to make life easier for yourself make sure they are trimmed.
At 9pm your Pizzas & Drinks will be supplied by the wonderful Zio's Restaurant just next door! You can choose 1 pizza and either a local artisan cider or apple juice. Please send your pizza and drink order via email by Monday 4th September 2023 to E:
lisa.finnegan@armaghbanbridgecraigavon.gov.uk
, T: 44 (0) 3300561023. Please see pizza menu for your selection:
http://ziorestaurant.com/pizza/
Should you have any dietary or access requirements, please mention during the booking process and these will be accommodated as far as possible. Please email foodandciderweekend@armaghbanbridgecraigavon.gov.uk for further assistance.
This event takes place on Thursday 7th and Friday 8th September 2023 from 7.30pm – 9.30pm in MUD Ireland Pottery at Millenium Court, Portadown. Tickets available for either day. Tickets £50.00.