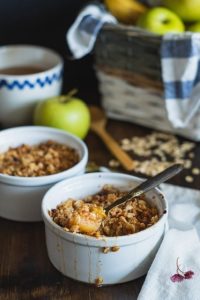 JOIN THE PUDDING CLUB "The perfect dessert is like music that makes my taste buds dance"
11.30am: Arrive at Blackwell House to a glass of Crab Apple Prosecco (alcohol free available) and coffee with scones hot from the oven served with Joyce's Armagh Orchard Crab apple jelly while meeting your fellow Pudding Club Members.
12.00 noon PUDDING CLUB DEMONSTRATION Joyce will demonstrate a plethora of fairytale desserts, inspire you with hints and tips on cooking some of your favourite traditional puddings and introduce a set of stunning new recipes for the most crucial part of any meal for your family and friends.
Puddings that make the world go round The Alternative Armagh Bramley Apple Crumble served with home made Creme Anglaise – you will never make crumble in the old fashioned way again.
Silky, rich, original Biscoff Cheesecake – stop eating if you dare Delicate, fluffy light 'n' airy Bramble Soufflé – seriously good Melt in the mouth Salted Caramel Profiteroles – total sensory deliciousness.
Rich, velvety Sticky Toffee and Bramley Apple Pudding served with a gooey Treacle Sauce – everybody loves this one. It makes you smile. Pure and innocent Lemon Gateau – Tangy, tongue tingling, delicious
ITS PUDDING O'CLOCK Sit down to a decadent 3-course lunch served with a glass of chilled prosseco finishing with an extravagant flourish and heedlessly self-indulgent platter of desserts. Don't worry, pudding calories don't count!
Your pudding club event concludes at approximately 4.00pm when you depart with a full tummy and folder full of delicious delectable Blackwell House pudding recipes to cook for your lucky family and friends!
Should you have any dietary or access requirements, please mention during the booking process and these will be accommodated as far as possible. Please email foodandciderweekend@armaghbanbridgecraigavon.gov.uk for further assistance.
This event takes place on Friday 8th September 2023 at 11.30am until 4.30pm at Blackwell House, 33 Mullabrack Rd, Scarva, Banbridge BT63 6BP. Ticket price £75.00
To view General Information and Cancellation Policy for Food and Cider Weekend 2023 – please click:https://bit.ly/3KtYLXu