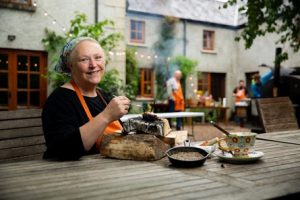 Fiona Chapman and her family run their catering business, On the Hoof, from their home on the edge of Gosford Forest Park. They are inviting you to join them in their garden of On the Hoof HQ. This is situated in beautiful woods, which will help you relax as you sit around the flickering flames of their outdoor kitchen.
On The Hoof's ethos is that food ought to be simple, well prepared and local, which is what they do. Woodland Supper begins with a meet and greet drinks reception. This meal is cooked over flame and there will be four courses. We will be cooking nose to tail, root to fruit and will discuss with our guests the ethos behind this style of cooking. Lots of mixed platters of starters on each groups table before enjoying a delicious main and enticing dessert. There will be plenty to eat at this hearty offering. Please Bring Your Own Bottle (BYOB).
Free shuttle bus transport from Portadown and Armagh available on request. Stops at Richhill and Markethill. To book transport please contact Lisa Finnegan; lisa.finnegan@armaghbanbridgecraigavon.gov.uk T: +44 (0) 3300 561 023 Transport subject to availability last date for booking Monday 4th September.
Should you have any dietary or access requirements, please email:Lisa Finnegan; lisa.finnegan@armaghbanbridgecraigavon.gov.uk T:+44 (0) 3300561023 and these will be accommodated as far as possible.
This event takes place on Friday 8th September 2023 at 7.00pm to 10.00pm at On the Hoof HQ, Bryandrum Road, off the Tandragee Markethill Road.
https://bit.ly/3JV7yRH.
Ticket price: £60.00.
To view General Information and Cancellation Policy for Food and Cider Weekend 2023 – please click:https://bit.ly/3KtYLXu
Bring your own bottle (BYOB)