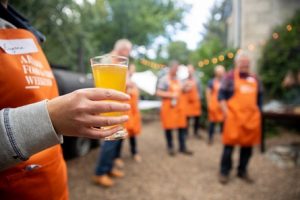 Celebrate the Armagh Food and Cider Weekend in style with an evening of local Cider and Irish cheese curated by 4 Vicars Catering and Greg MacNeice of MacIvors Cider.
The event is hosted by John and Jane Nicholson of the venue, the beautiful Crannagael House. During this evening Greg MacNeice will talk you through his portfolio of ciders brewed just a few hundred metres away from Crannagael House, using apples grown in the surrounding orchards. It's as local a food experience as you could ever wish for. Greg's ciders range from a traditional style, through to some exciting unique barrel aged, vintage ciders each having their own character. These ciders will be paired with dishes thoughtfully created by Gareth Reid of 4 Vicars Catering using Irish farmhouse cheeses. Cider pairs wonderfully with cheese, the sharp fruitiness cuts through the rich creaminess of the cheese. Dishes will feature some amazing produce grown on the estate at Crannagael House.
The evening will take place in the covered Courtyard, Crannagael House, a fitting setting for what promises to be a unique food and drink experience! Ticket for this five-course experience includes all MacIvors Co Armagh cider pairings (Barnhill Co Armagh apple juice available). Evening includes musical entertainment.
Free shuttle bus transport from Portadown and Armagh available on request. Stops at Richhill, Loughgall and Moy. To book transport please contact Lisa Finnegan; lisa.finnegan@armaghbanbridgecraigavon.gov.uk T: +44 (0) 3300 561 023 Transport subject to availability last date for booking Monday 4th September.
Should you have any dietary or access requirements, please mention during the booking process and these will be accommodated as far as possible. Please email foodandciderweekend@armaghbanbridgecraigavon.gov.uk for further assistance.
This event takes place on Friday 8th September 2023 at 7.00pm to 10.30pm at Crannagael House. Ticket price: £60.00
To view General Information and Cancellation Policy for Food and Cider Weekend 2023 – please click:https://bit.ly/3KtYLXu